PRESENT AND PAST TANG SOO DO (MDK) MENTORS
Grandmaster KIM, Chung Il
Grandmaster KIM, Chung Il (Dan #475) is the President of the International Association of Korean Martial Arts (IAKMA). As Kwan Jang Nim of the IAKMA, Grandmaster Kim is a 10th degree black belt. He has been training in the Korean martial arts for over 51 years and teaching for over 40 years. His instructor in Korea was Master OH, Se Joon (Dan #26), who taught at the Seoul YMCA MDK branch. Master OH was a student of Grandmaster HWANG Kee, Moo Duk Kwan's founder.

Grandmaster KIM's original roots are in Tang Soo Do Moo Duk Kwan and Taekwondo and he was a member of the Korean police force and trained the Korean police for three years in self defense tactics and techniques. An excellent technician, Grandmaster KIM was well known in the Moo Duk Kwan for his kicking and sparring prowess.
Grandmaster KIM, Chung Il has been teaching in the U.S. since 1970, coming to Michigan at the request of Grandmaster KIM, Jae Joon (Dan #38). He is also a former Chairman, Board of Directors, U. S. Moo Duk Kwan. Grandmaster KIM, Chung Il currently oversees IAKMA activities and teaches Black Belt classes in Tang Soo Do at Kennedy's Martial Arts Academy in Elk Grove, Illinois.
Mr. Vaillancourt joined the IAKMA in 2007 and has been fortunate to have been able to train with Grandmaster KIM, Chung Il.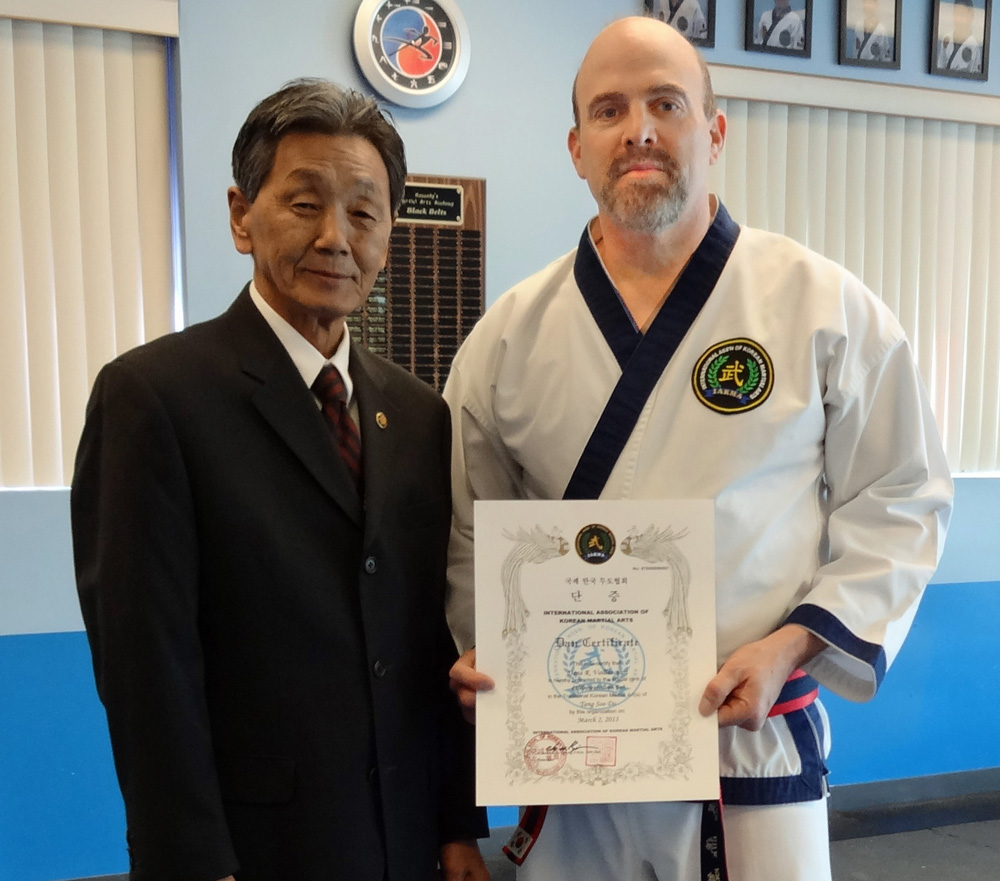 Grandmaster C. I. Kim promotes Dana Vaillancourt to 8th dan Tang Soo Do after a physical testing in Chicago (3/2013).
Grandmaster KIM, Jae Joon
In April of 1945, KIM, Jae Joon enrolled in Grandmaster Hwang Kee's Tang Soo Do Moo Duk Kwan Dojang in Seoul, Korea. Grandmaster Kim became a devoted and gifted student of Tang Soo Do under Grandmaster Hwang Kee earning his black belt (MDK Dan Bon #38) in 1947 at the third Moo Duk Kwan promotion test. In 1955 Grandmaster Kim gave an exhibition at the 1st International Goodwill Tang Soo Do Tournament. During 1967 and 1968 he was awarded the 8th Dan and appointed president of the Moo Duk Kwan in the United States by Grandmaster Hwang Kee. In 1969, he formed the American Moo Duk Kwan Tang Soo Do Federation in Detroit, Michigan. With the success of his federation, Grandmaster Kim moved the federation's headquarters to Brandon, Florida in 1987 and renamed it the World Moo Duk Kwan Tang Soo Do Federation. On April 7, 1990, in recognition of his worldwide promotion of the Korean martial arts, the Kukkiwon promoted Grandmaster Kim to 9th degree black belt (#01000025). In 2004, Grandmaster J.J. Kim was inducted into the Tae Kwon Do Times Hall of Fame and on April 22, 2006, Grandmaster Kim was inducted into the Taekwondo Grandmasters Society Hall of Fame. For over 50 years Grandmaster Kim had been a devoted teacher and inspiration to all who come in contact with him. Grandmaster Kim passed away suddenly from cancer on January 9, 2007. The world's martial art community considered Grandmaster Jae Joon Kim a Master's Master.
The Vaillancourts are proud to have been able to train and learn from Grandmaster Jae Joon Kim and were his loyal students until his death in 1/2007.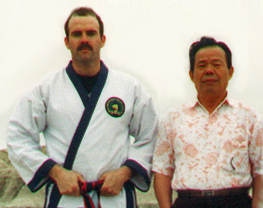 Grandmaster KIM, Jae Joon and Dana Vaillancourt during his 1992 South Dakota visit.